Testimonials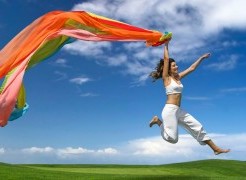 For more testimonials, visit patientfusion.com and enter Colaianni under "find a doctor".
Everything is working. Everything!
I love everything about going to my NP- the beautiful drive there, her cozy office with teas, essential oils, good books to browse in the waiting room. Her friendly and charming assistant, and she herself- the perfect combination of brilliant and nurturing. She takes her time and listens and covers everything in detail.

Today, cherry on top was reviewing all my new labs and thyroid ultrasound- and everything has improved- including all, as on ALL of the nodules on my thyroid disappeared. They've been there for about a decade or more- gone!

Everything is working. Everything!

For anyone in the vicinity- I can't recommend Rana enough. I feel so fortunate to have found her and so close to my home. New Beginnings indeed!
- Kathy H.
A decision I am so thankful to have made.
My decision as a 34-year-old MAN, to walk into New Beginnings Healthcare FOR WOMEN, was really a last resort but a decision I am so thankful to have made. After seeing multiple doctors over the course of a year and finding few answers or relief for my GI-related issues, my wife and I met with Rana to see if she could help me identify solutions to improve my overall health and wellbeing. Several trusted friends had recommended Rana for her kindness, expertise, and attention to detail, of all which were immediately evident in my first sit-down in her office. Rana left no stone unturned and treated me with great respect and understanding. She listed and took notes and for the first time in over a year, I felt heard by a medical professional. The treatment plan and subsequent support Rana has provided me have left me feeling like maybe she needs to change the name of her practice so that men also understand that competent, respectful healthcare professionals do operate in the Williamsport area!
- Chris K.
I had been feeling bad for 2 years...
I wanted to share my experience with New Beginnings Healthcare for Women so woman realize that we do have other options with our healthcare. I had been feeling bad for 2 years, no energy, hair loss, weight gain, sleep disturbance, and a constant period. I went to my family dr who ran unending tests who then referred me to other specialists who ran more tests then for the common answer to be that my labs weren't that bad......was I just depressed? I then knew there had to be another option and I was lucky enough to find Rana at New Beginnings. My first appointment we sat and talked.... Yes ladies she actually wanted to know what was going on with my whole person not just a symptom! She came up with a plan and I did saliva testing to get some different hormone levels. We received the results and Rana started me on a supplement therapy and food changes. It is 4 months later and I feel amazing! My levels are all back to normal and I am able to cut back on a lot of my supplements and the symptoms are gone! Ladies please don't feel alone with your body and healthcare, there are places we can go and be heard and that is at New Beginnings Healthcare for Woman! Thank you from the bottom of me heart Rana for listening and giving me my healthy life back!
- Lisa B.
Have you ever been so tired...
Have you ever been so tired that you can sleep all the time? You would set down to watch a little TV, and fall asleep. After you slept you were not reenergized. Then you were not able to fall asleep at night. When you eventually fell asleep you slept for 10 hours or more. When you got up you were still tired not rested at all. So I thought I was just kept accepting all that was happening. In my mind I was accepting what was happening, but my Adrenal Glands were very much overworked. All of this was over a 5 year period, but each time something happened I did not regroup, just sunk deeper. I am so glad to have Rana in my life. She knew all about the symptoms of Adrenal Fatigue. She let me know it was not a quick fix, but she knew what to do to fix it. Thank you Rana for caring. So if you are experiencing any of the above symptoms get yourself checked out. It has been a year and a half since my recovery and life is good.
- Karen D.
Rana is the most caring person...
Rana is the most caring person I have had the pleasure to meet in the medical world in a long time. She truly cares for you and your health situation along with your spiritual and mental well being. Her personality goes above and beyond the patient/doctor relationship. I am very glad to have found her and wish anyone having women health issues to have Rana by their side.
- Mary B.
I was on to something unique...
I just wanted to thank-you for restoring my faith in healthcare. I knew that I was on to something unique when our first visit lasted over an hour and included more than the routine questions/answers about family health history. My questions and concerns were addressed and explored through a process that I can trust. Not feeling rushed brings great dignity to the overall experience. I believe that we got my healing plan right the first time because of two simple things: adequate time and listening. Thank-you, thank-you, thank-you I hope that more practioners follow your model in the future.
- Tasha B., Williamsport
I am thrilled with my new energy level...
Good News!! I am thrilled with my new energy level. I am embracing the amazing feelings of balance and well being. I had no idea how well I could feel and how much energy my body would create for me if I would just give it what it needed to function at optimal levels. My years of sugar cravings are gone. I wake up each morning feeling rejuvenated and empowered - both physically and mentally. Thanks Rana - you have raised my experiences in life to a whole new level of excitement and enjoyment. I am over 50 but I have the energy of my 20 year old self back. Simply amazing!!
- Vickie V.
If I traveled halfway across the country I would find my way back to New Beginnings...
Every person has their own story about their health and wellness... its who we choose to share it with and who will choose to listen...new beginnings health care is where your journey begins and where your story is told...where the professionals give you the love, faith and hope that a pharmacy and pill bottles can't...you are never alone at new beginnings you always have someone to help you travel your journey...If I traveled halfway across the country I would find my way back to New Beginnings.... Words can never express how grateful I am for you, helping, me through my own journey not even physical y but mentally...my personal journey is much like my body...complicated and confusing (haha), so much has happened over the past year, but with the help of love, hope and prayer..I have learned and healed...over the past couple of years I have lost touch with myself and God... When I first came to your health Care Facility I was not expecting everything that was about to take place...It was an emotional journey that is still continuing...I have finally made positive life decisions and have found a strong relationship with God..Also you have inspired me to what kind of health care provider I want to be...There is only so much medications can cure. A healthy soul is sometimes more powerful than a healthy body didn't understand the name of the facility until now...because this is my new beginning
- Jessica H.
Thank You!!!
I thank Rana so much for taking the leap of faith to open her practice, New Beginnings Healthcare for Women. With Rana's knowledge in Women's healthcare needs, combined with her spirituality and mindfulness expertise, she has been able to help me tremendously. I feel better today than I have in years - A New Beginning!!!! I wish Rana continued success, peace and good health for many years to come. Thank you Rana for taking a special interest in Women's healthcare needs.
- Diane A.
Never Ever in my 25 + years experience...
NEVER in my 25+ years of experience in the health care industry (as a practitioner or patient) have I ever received anything close to the courteous, in-depth, personal attention and service you have provided me. NEVER have I visited a healthcare facility where I immediately felt so comfortable, relaxed and "centered". NEVER have I had a personal note written to me from an attending on a test/lab result. NEVER have I had a post visit phone call from a provider, NEVER ever! All I can think is .....why isn't. ALL of healthcare like this?.....why isn't ALL healthcare providing top notch customer service, care and satisfaction?!! (On the other hand.....don't want to spoil a good thing.....don't want to share TOO much!!) Thank you for the professional, compassionate and gentle care....you are truly an example of what healthcare SHOULD be.
- Mary F.
New Beginnings...is like discovering an oasis...
Walking through the door at New Beginnings Healthcare is like discovering an oasis in the midst of a hectic world.
- Nancy K.
I feel so blessed to have met Rana...
The most important words that come to mind are, "DO NOT SETTLE!" I know there are many women who can relate and have "settled" for the way they feel, even though deep down you know there has to be someone out there who understands and can give you hope and the promise of a brighter tomorrow. I feel so blessed to have met Rana, who understands with her extraordinary compassion and expertise. Be kind to yourself, and do not hesitate to start your journey of feeling better. It is the most important thing you can do for yourself. Do not "settle" when you can be the person you always knew you could be. Today, I feel terrific. It is a new beginning for me for the rest of my life.
- Cathy J.