Our Story
Told by Rana A. Coalainni, CRNP, Founder & Owner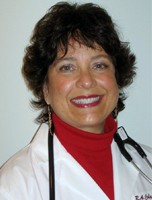 Rana A. Colaianni, CRNP
Founder and Owner
I'm one of those fortunate folks who knew since childhood, I would be in healthcare. I got my first toy medical kit when I was about 4! I've been blessed with over 30 years in healthcare as a Nurse Practitioner and educator, including many years in Family Medicine.
Very much in love with my work, a few years ago I felt the stirring in my heart to create something new in Women's Healthcare and decided to devote this next part of my career to serving women exclusively. And so, taking a leap of faith, in April 2007, New Beginnings Healthcare for Women, LLC was "born" with the original goal of helping women achieve health and wholeness in their physical, emotional and spiritual lives. Since that time, our practice has grown, and to respond to the need, we have begun offering similar services to men.
"Listen and attend with the ear of your heart."
- St. Benedict
This "healing" included myself - I felt the need to return to a style of practice that honors a slower place and nurtures a more personal relationship with the person seeking care. A pace that I could honor the value of truly listening not only with my ears, but with my heart. This requires time and in our current healthcare milieu this truth is often undervalued. And so "New Beginnings" captures the symbolism of a fresh start, hope and renewal both for myself and my patients. We each have a unique purpose and path - we need healthy bodies, minds and spirits to live the lives we are meant to live.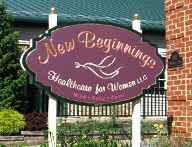 I believe emotional and spiritual nourishment are as crucial to our overall well-being as care of the body. Care of our souls is just good medicine. I believe through education and sharing of information, we are empowered to make those healthcare decisions that are best for us. I am committed to partnering with patients to share their unique health journey. I view my work serving people as a healing ministry. Please visit our service page for a look, at what we offer. We are located at 1017 Washington Blvd. Suite B, Williamsport PA 17701. If you need help finding us, click here for driving directions.
Note: New Beginnings Healthcare for Women LLC is a specialty practice and as such patients are encouraged to maintain a Primary Care Provider (PCP), such as a NP, MD, DO or PA for the remainder of their healthcare needs. If you do not currently have a PCP, we would be happy to assist you in locating one.